When the economy took a nose-dive in 2008 it made fundraising an even greater challenge. In 2009, it was clear that message that was king. As donors began making choices between potential events, cutting back on the number of auctions they attended, it was the events that effectively communicated their message in advance of the auction succeeded.
Successful events in 2009 were able to empower an audience to make a difference in the world by attending their event. Highly effective messaging led to highly motivated crowds who came prepared to help change the world, one bid at a time. But any event that took its audience for granted last year suffered dire consequences.
When 2010 was barely underway and the spring fundraising auction season was yet to arrive, it became obvious that  organizations are going to have to work harder than ever to create meaningful and profitable fundraising events. Message will always be important, but it will no longer be enough just to get a solid message together and use it to bring potential donors to your event. Successful events will need to create and celebrate a community that comes together to make something positive happen in the world.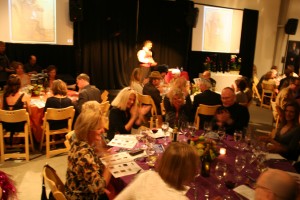 Schools have an advantage in this respect because they have a built-in community, and they make the easiest example upon which to draw. Parents have a deep-rooted belief in the value of their children's school, and most understand how important the auction is to the school. Successful school auctions are a chance for the parent-body to come together, party, and make something good happen for the school. At successful school auctions the big bidders are celebrated and the fund a need is the emotional high-point of the evening.
If your event doesn't have a built-in community it simply means that you have to work harder to create a community. Community can exist year-round, it can come together for one night or an extended event. We'll drill down into more specifics on how to succesfully create community at an event in upcoming posts, but the grand overview is that you have to find a way to bring people together to help you.
You have to make your attendees feel that they are an important part of your "family", no matter what size check they write that night (the power of the fund a need is its ability to turn a mass of small pledges into incredible change, after all). You have to make attendees want to come back and do it again every year, and hopefully bring more friends. They need to look forward to the event, the gathering of people it represents, and the difference it enables them to make in the world.
In other words, donors not only want to make a difference, they want to surround themselves with people who are committed to making that same difference – at least once a year.